School Uniform
William Byrd Primary Academy pupils wear their uniform with pride. Our uniform shows that we are part of the William Byrd Primary Academy community. We have the highest expectations from our pupils with regards to school uniform and appearance, and strongly believe that our high standards promote positive behaviour, support effective teaching and learning and contribute to the ethos of the school.
All Year Round
Blue sweat shirts or cardigans with the William Byrd school logo (old logo is acceptable)
Black or grey trousers, skirt or pinafore
White shirt, blouse or collared t-shirt
Plain blue, black or white hijab or turban
Black shoes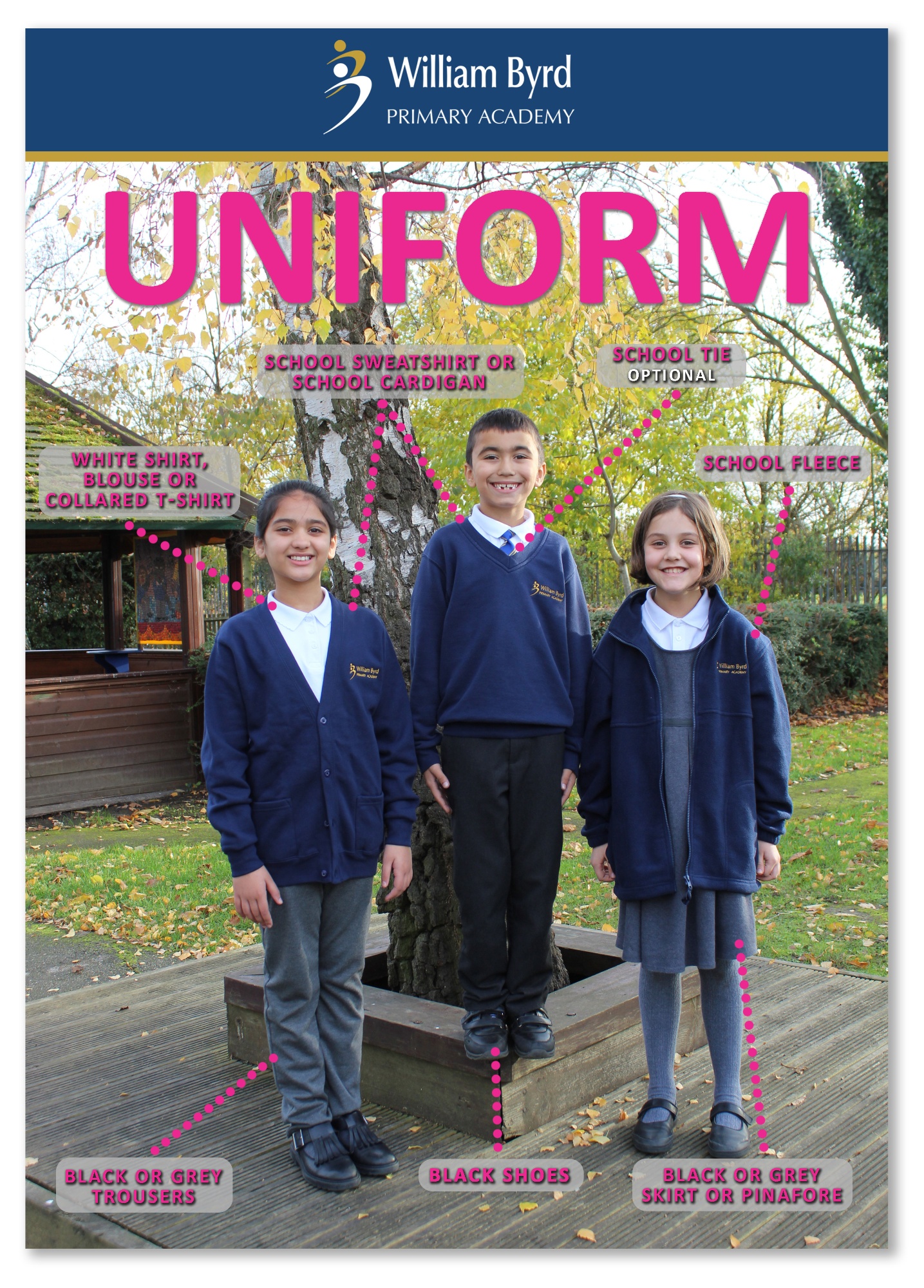 Summer
Children can choose to stay in the 'all year round' uniform above.
Girls: Blue and white check or stripe summer dress or knee length short trousers.
Boys: Black or grey short trousers
Shoes
Please ensure that your children wear sensible shoes to school. Children are very active during the day both inside the school and in the playground. Shoes need to be comfortable and safe. "Strappy" sandals and boots are not allowed.
In extreme weather children will be allowed to wear boots/wellingtons for their journey into school and then change into school shoes.
Hair
For health and safety reasons long hair should be tied back during the school day using simple ties, bands or clips. 'Jojo bows' are not considered suitable for school.
Extreme haircuts and razor patterns should not be worn at school as this goes against the principles of school uniform.
Makeup
Makeup including nail varnish is not allowed in school. If your child is wearing nail varnish they will be asked to remove it for the next day. If this is not done then the child will be supplied with nail varnish remover and cotton wool and asked to remove it.
PE
Black shorts or black footless leggings or plain black track/jogging bottoms
White t-shirts (long or short-sleeved)
Plain black sweatshirt or school logo sweatshirt - No zipped tops or hoodies
Black plimsolls in KS1 (with Velcro fastening)
Black plimsolls or trainers in KS2 (these must be different from day-time shoes)
Second hand uniform can be purchased at the School Office.
You can now purchase uniform online through ParentPay.