Packed Lunches & Breaktime Snacks
Food and drink in packed lunches
The key to a healthy lunchbox is to include a balance of appropriate foods from the four main food groups:
Fruit and vegetables
Milk and dairy products
Breads and cereals
Meat and alternatives
The school does provide facilities for pupils bringing in packed lunches and we do ensure that free, fresh drinking water is readily available at all times.
As fridge space is not available in school, pupils are advised to bring packed lunches in insulated bags with freezer blocks where possible to stop the food going off during the Summer. Please do not use glass containers or bottles to pack your child's lunch.
For ideas for healthy packed lunches, try these links: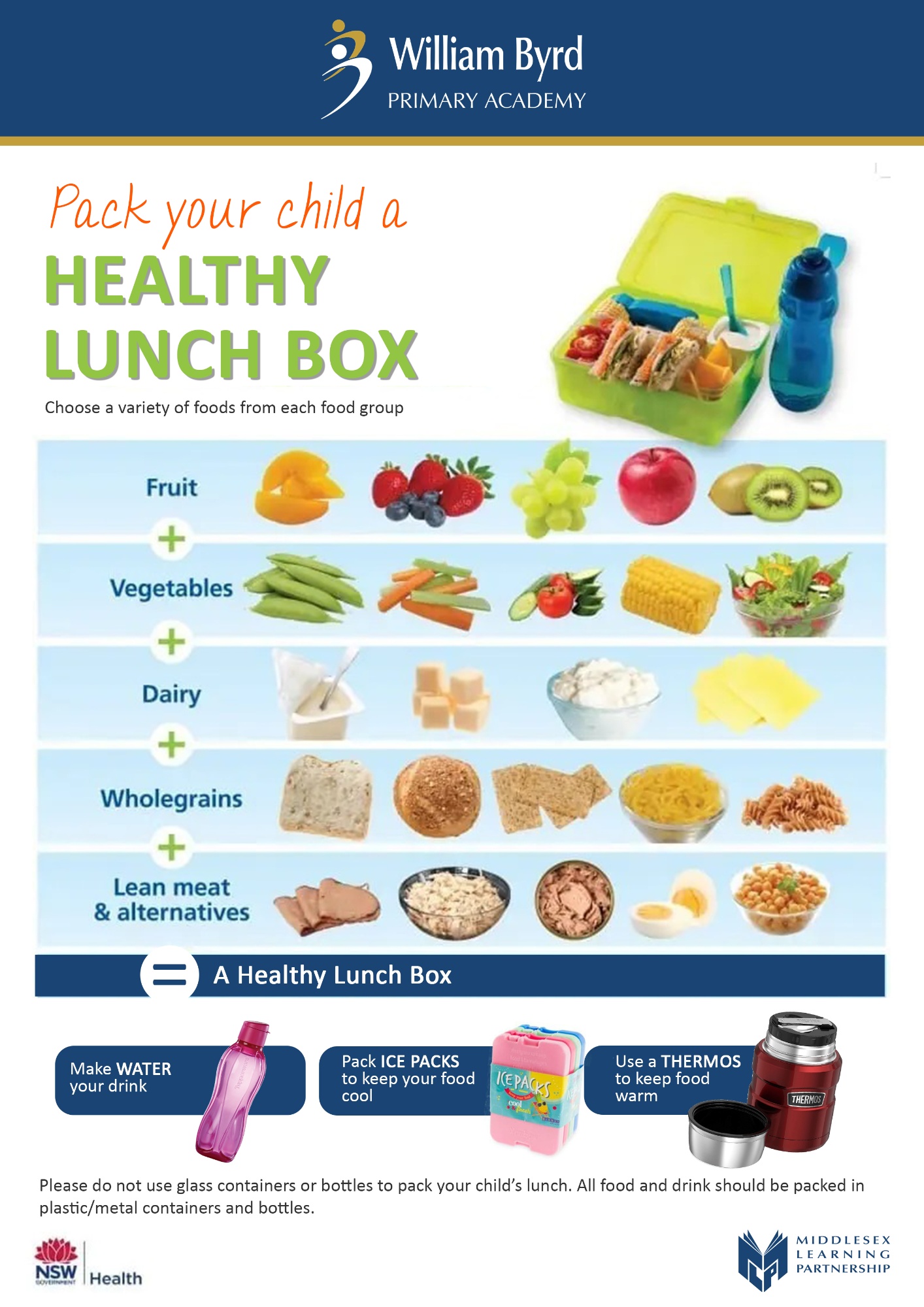 Packed lunches and breaktime snacks MUST NOT include:
nuts – including peanut butter and Nutella – because of the life threatening risk to any other child who may have a severe allergy.
confectionery such as chocolate bars and sweets (fruit strings are considered to be sweets). Cakes and biscuits are allowed but encourage your child to eat these only as part of a balanced meal.
drinks other than water and squash – fresh water is available at all times so you do not need to include this.
snacks such as crisps or Cheddars. Instead, include seeds, vegetables and fruit (with no added salt, sugar or fat). Breadsticks served with fruit, vegetables or dairy food are also a good choice.
Special diets and allergies
The school also recognises that some pupils may require special diets that do not allow for the standards to be met exactly. In this case parents are urged to be responsible in ensuring that packed lunches are as healthy as possible. For these reasons pupils are also not permitted to swap food items.
Please be aware of nut allergies.
We recommend you visit the www.allergyinschools.co.uk website for accurate, reliable information on managing allergies in schools.