Christmas Performances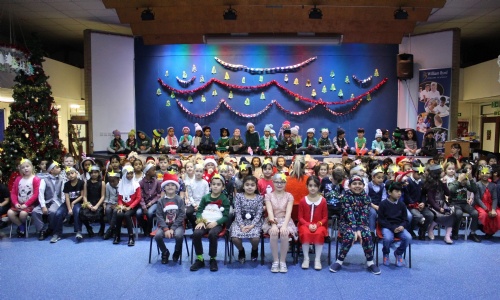 Well done to all our talented children from Reception, Year 1 and Year 2 (and the adults behind the scenes) for their incredible Christmas performances this festive season.
Reception - Christmas Production 'The Toy Shop'
The show was an absolute cracker on both Wednesday 12th December and Thursday 14th December. All of the children sang and acted brilliantly in their Christmassy costumes. It was a feast of entertainment for all of those who attended and was thoroughly enjoyed by all.
Year 1 and 2 - Christmas Sing-A-Long
The Year 1 and 2 sing-a-long was very special. The children were simply amazing and sang beautifully on all three days of their performances; Tuesday 11th, Wednesday 12th and Thursday 13th December. Everyone was in true Christmas spirit by the end of each performance and we were all tapping our feet away with the Christmas jingles.
Thank you to everyone who was able to attend and for your continuous support. Merry Christmas to you all!