Bedtime Story Bag & Reception Reading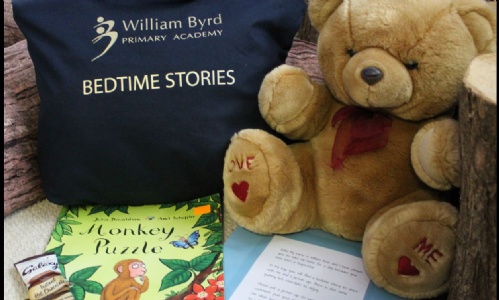 The children in Reception are very excited about the arrival of the William Bear. William the bear is the newest member of each Reception class. He goes home with the Superstars of the day and treats them to some hot chocolate and a special bed time story. Children eagerly await the daily reveal of who will earn this special surprise and try really hard to be the Superstar every day.
Thanks to everyone who attended our recent reading events during the last half term. Reading is a big focus in Reception, and nothing is more important than acquiring the reading skills at a young age that set you up for independent learning and future academic success.
A big part of this is daily reading using your Oxford Owl login and the reading book, matched to your child's level, that comes home weekly. Another part of this is making reading enjoyable; visits to the library, a love of great children's authors (such as Michael Rosen and Julia Donaldson), and a family importance placed on a cosy daily reading session are vital to ensuring reading confidence and enjoyment. These bedtime story bags and teddies are more than just a reward; they are an opportunity for families to practice and remember the importance of this time.
Don't forget to comment on the story you read! You may also wish to share a book to recommend to the next Superstar (please ensure your child's name is inside the book!).