Reception Visit Ruislip Lido Beach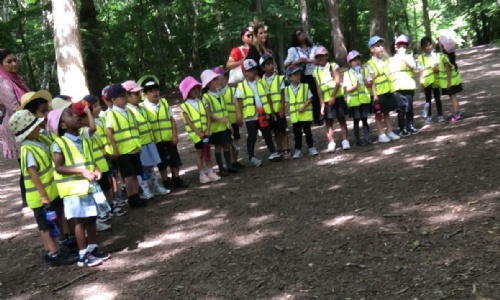 Reception children had a fantastic time exploring local environment when visiting Ruislip Lido.
The children visited Ruislip Lido Woodland Centre, where they took part in the Minibeasts and Woodland Habitat workshop as well as other activities and games. One of the most exciting activities was definitely looking at the different minibeasts found under the logs and rocks. We found shield bugs, millipedes, centipedes, ground beetles and many more. The children loved cheering them on as they raced. The children were encouraged to make connections between the speed of the insects and whether or not they were hunting minibeasts or omnivores. We were lucky enough to see a muntjac too!
After having a tasty picnic on the beach, children had plenty of fun making sand castles, building forts and collecting rocks.
The walk from the entrance, round the waterside, and along the beachfront stunning, and the children loved getting in touch with nature. We were very proud of how far they walked and what independence and maturity they showed on their first school trip.