Friendship Week & Odd Socks Day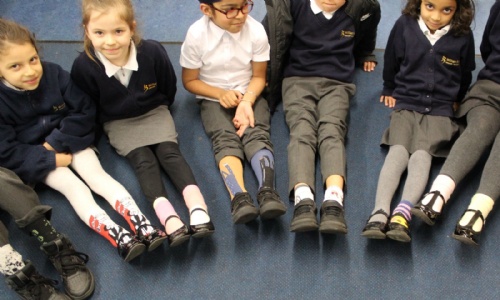 This week William Byrd joined schools across Britain to embrace the message of 'One Kind Word', the theme for this year's Anti-Bullying Week campaign created by the Anti-Bullying Alliance (ABA) which works to raise awareness of bullying and bring lasting change to children's lives.
One kind word can provide a moment of positivity to another. It can change the outcome of an argument or discussion. It can change someone's perspective and alter the course of someone's day or week. It can also help break the cycle of bullying.
In support of this message started the week off with Odd Socks Day on Monday 15th November and invited children and staff to wear odd socks to embrace and recognise difference and individuality, and show their support for kindness and solidarity against bullying. We also had a special assembly to deliver some key messages about kindness and respect.
The staff 'secret friend' has been a lovely way for colleagues to express kind wishes to each other and has really made everyone smile. The whole school has participated in a friendship poster competition and each class will have two winners who will be announced this Friday. Our children have also been busy working on a special school friendship tree. We look forward to sharing photos with you soon.