A Strong Start to the Term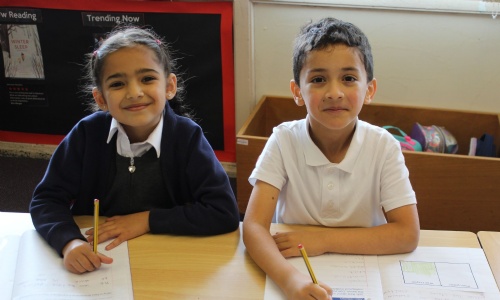 We have made a very strong start to the new academic year and our new children and staff are settling in well to life at William Byrd. Each year team has written a short overview of learning and progress so far.
Click here to see the Curriculum Overviews for this term. These will give you a good insight to what we will teaching this term.
EYFS
In Nursery this term we have been working on settling into our new classroom and working on communicating with others. We have also been working on developing our friendships with our peers through play and interacting with them. We have been looking at our family and who is important to us as well as looking at ourselves and talking about our similarities and differences.
In Reception, this half-term, we have been settling into the new rules and routines, getting to know each other and developing friendships through daily interactions and activities. We have been learning about what makes us unique and special, the importance of friendship and how people in our family, school and local community can help us.
Year 1
In Year 1, we have had a busy start to the year as we learn all the approaches, attitudes and aptitudes of a William Byrd learner as we move out of the Early Years. During this time of transition from a child-initiated early years approach to a more structured Key Stage 1 approach, students have worked within a partial continuous provision setting, where they have experienced a mix of directed and self-led tasks, linked to the theme or content of the lessons.
In Writing, we have been learning all about our writing lenses through our 'Write Stuff' approach. Exploring one plot point every week, and with 3 different new skills focused on within this, we have had lots of fun writing, and been very proud of the thinking we have done and the writing we have produced. We have also begun our groupings for our Read Write Inc phonics sessions.
In Maths, we have been focusing on comparing and ordering. In particular, we have looked at comparing objects and sorting them into groups, and applying this knowledge to a more abstract comparison of numbers. We have also been looking at the ways we organise our written thinking as we compare numbers, using the 'greater than' and 'less than' sign, as well as exploring equivalency.
We have also really enjoyed launching our Science focus on Materials, where we have become investigators and recorded our findings.
Year 2
In Year 2 we've had a very busy start to the term. We have been writing about the picture book Little Red Reading Hood by Lucy Rowland. We have changed parts of the story to make it our own. In maths, we have been learning about place value, addition and subtraction. In History, we have been learning what the word 'significant' means and some significant people who have made a positive impact on our world. In science, we have been exploring the uses of different materials and what they are made of.
Year 3
We have been very creative in writing our own Adventure stories and have been exploring the text of Stone Age Boy-By Satoshi Kitamura. Whilst engaging in role-play, freeze frames, setting the scene and even creating our own cave drawings, we have been able to relate to the story of Robert , who finds himself falling into a hole, travelling into the Stone Age.
In History we have been developing our understanding of the Stone Age further by exploring the Mesolithic and Neolithic times, identifying the tools, jobs and roles they all worked for. Year 3 have been working scientifically conducting their own experiments, testing which materials are most reflective, investigating lights and shadows, writing a hypothesis, carrying out the experiment and then sharing their results.
Children have been working together and cooperating in P.E lessons, working in pairs and groups to develop their throwing, catching, dribbling, communication and ball control skills.
Year 3 have been working especially well in Maths, using the 4 operations with 3 digit numbers, balancing addition and subtraction equations, comparing and ordering numbers to 1000, counting in 50s and practising out times tables.
Year 4
Year 4 have made a great start to the year and have settled into learning nicely. Children have been working collaboratively in science where they have been learning about animals including humans. They have completed diagrams about the digestive system and can name the parts and how they function.
In maths, Year 4 have been focusing on Number and Place Value which will support with addition and subtraction facts. In English, the children have just completed a narrative unit based on the book Journey by Aaron Becker. They will be using the skills they have gained to write their own stories independently. We are very excited about reading their creative ideas.
Year 5
Year 5 have had a great start to the academic year. We have been working hard in our reading lessons continuing with our school's 5E approach and have begun to understand what life was like during the Shang Dynasty for our History lessons.
Our theme for Science this half term, is Earth and Space which also links to our Jane Considine's 'Write Stuff' units. The children have written a beautiful adventure story about Luna's love for space and the problems she has faced on her journey to become an astronaut. To further develop our understanding in this area, we will be visiting the Science Museum on Thursday 14th October.
In Maths, we have been recapping our understanding of the four operations and have been solving multi - step problems in a range of contexts.
Year 6
Year 6 have had a wonderful start to turn jumping straight into an ocean adventure with our Kensuke's Kingdom writing. We have been learning about the Transatlantic Slave Trade in history and this has prompted a lot of thought-provoking questions from the children. In science we having been learning about classifying animals and had a go at creating our own branching diagrams - this is without mentioning how hard we've been working on our reading, RE, PE, PSHE, computing art and French! It's been a busy start to the year!