Reading at William Byrd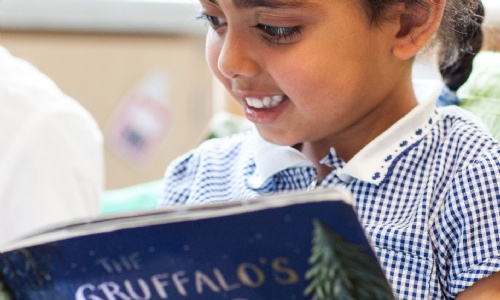 The teaching of Reading, both the technical aspects of decoding language and the opportunity for children to develop a love of reading, is one of the most important aspects of school life here at William Byrd Primary Academy.
We believe our approach to teaching guided reading sessions and comprehension sessions ensure children leave us with the skills they need to enjoy a range of texts genres and prepare them for future life experiences.
To promote the love of reading throughout the school every classroom has a themed book corner, each class has regular Guided Reading lessons, we have regular visits from the mobile library and we have dedicated time within the school day where children enjoy a class book. We also have some amazing reading volunteers who come into our school and listen to our children read to develop their reading fluency, confidence and instil a love of reading.
More recently we decided to create a central space in the school where children can come and enjoy a book. Over the past few months, we have been busy decorating our new reading room and it is now finally complete. We are absolutely thrilled with how it has transformed into an amazing space and children are excited to use it.
As part of our pupil leadership programme, our Year 5 and Year 6 Reading leaders will play an active role in sharing stories and developing a love of reading across the school.
Below are some photos taken from our new Reading Room and the amazing artwork on the ceiling tiles!