Year 2 Visit to Heathrow Airport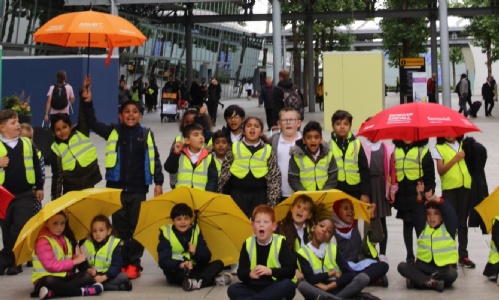 On Tuesday 11th June Year 2 visited Heathrow Airport - Terminal 5 to attend an educational talk about Neurodiversity.
On arrival the children were guided to a conference room where they watched a presentation, the lovely staff at Heathrow explained what Neurodiversity is in a very child friendly manner.
The children were able to act out being Neuro transmitters working in the body through a practical relay obstacle course. The children then had the opportunity to explore the sensory room, where there were different activities that stimulated each of the senses.
As part of the session the children were then able to go down to the ground floor and see The Umbrella Project display. There were 400 multi-coloured umbrellas suspended between the buildings. The display was created to celebrate Neurodiversity.
The Heathrow employees were also extremely impressed with how well the children behaved, actively engaged and positively responded to the sessions. The children were mesmerised, they thoroughly enjoyed the day and can't wait to go back!